Jurassic World: Dominion Dominates Fandom Wikis - The Loop
Play Sound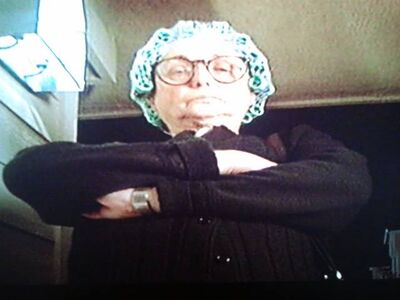 Biography
[
]
The Babysitter is a minor character in the original 3 Ninjas film. She comes by to babysit the brothers for Mrs. Douglass when she meets her husband concerning the Snyder case. She is an elder, grouchy lady and takes no interest in children.
3 Ninjas
[
]
She arrives at the Douglass's house to see Tum-Tum answer the door. She looks down at him with a menacing look on her face and her arms folded. He hesitantly greets her to which she gives him a fake smile, and then assumes her menacing look.
When Fester and his buddies, Marcus and Hammer came to the Douglass's house in attempt to kidnap the brothers, she was babysitting for them that night. They cleverly ambushed a pizza guy delivering for another house nearby, Fester's disguised himself as the pizza delivery boy, and went to the Douglass's porch with his buddies. She knew they didn't order pizza, but opened the door at a threat made if it wasn't paid for. Fester pasted her face with pizza as his buddies moved her to the closet and held her captive there with a chair against the door.
After the brothers and Emily subdued Fester and his buddies, they heard knocking at which she was struggling to get out of the foyer closet. Emily politely asks her if she is okay. Tum Tum, screams at her, seeing she is covered with pizza saying, "I hope you save some pizza for us!" She lets off a frustrated growl. While Rocky give his condolences to her and Colt saying they can take care of themselves, she whimpers at strangers who have appeared behind them; Rushmore and Mr.Brown.
Gallery
[
]
Notes
[
]